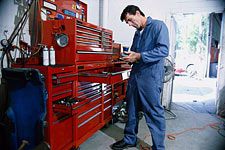 Royal offers a full set of guaranteed mechanical services, including but not limited to the following:
Preventive Maintenance
The best way to minimize more serious breakdowns and the higher costs associated with automotive repair is by doing routine maintenance. Preventive vehicle maintenance is simply what the manufacturers of your vehicle suggest getting done to keep your vehicle going. Whether you have a car or truck, we provide the maintenance services to keep it running well.

Our recommended preventative maintenance services include:
Oil change, lube and filter
Tire rotation
Brake and transmission fluid replacement
Clean fuel injector
Air filter inspection and replacement
Transmission inspection
Radiator inspection and service
Fan and belt inspection and replacement
Vehicle Inspection
Tune-Up
Air Conditioning service
Battery inspection
Factory scheduled maintenance
Brake Service
Brakes wear out over time, requiring service. How long they last is based on various things such as driving conditions, how you brake and other factors. For this very reason, it is necessary to service your brakes when needed. We are familiar with the driving conditions here in Illinois and know that your brakes need care. So we provide a complimentary inspection with any service to make sure that any problem is taken up before it becomes a major concern.
Transmission Work
The transmission may well be one of the most complicated and important components of your car or truck. That's why it's important to trust its maintenance and repair to a full-service transmission shop. There are a number of problems that can be resolved with an adjustment while others may require a complete transmission overhaul. Our skilled mechanics have the training and expertise to properly diagnose and fix any transmission problem.


Oil Changes
As our mission is to provide South San Francisco and the surrounding areas with a place that takes care of all their vehicles needs, we also provide oil changes. We additionally offer a complementary vehicle inspection with your oil change as we care about your safety.
Emergency Repairs
We are here for any kind of trouble with your car or truck. We know your vehicle breaking down can be frustrating and even worse, it can leave you stranded. So we provide the best service we can to make you feel at ease during such a time. If you ever need emergency vehicle service call us. We provide towing in addition to repairing your vehicle so you can relax and let us take care of it.
Additional Services
Tire repairs, wheel alignments, tune-ups, repairs, including adjustments, removals and reinstallation to engines, transmission, and differentials. We also service automotive electrical systems, align vehicle suspension, make brake repairs including setups, adjust and repair steering systems, repair and service air conditioning, heating and engine-cooling systems; and do all necessary mechanical checks.,

Roayl was founded in 1997. Since then he has been providing excellent service and offering outstanding value to neighbors throughout Anytown. Bring you car in today for a free inspection and see whatRoayl's No Hassle Guarantee is all about!
Questions? Call Mohammad or Victor at (650) 991-9372

We are independently owned and operated!